Somalia to strengthen private sector growth, encourage investment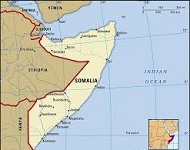 IFC, a member of the World Bank Group, has signed its first formal agreements with the Federal Government of Somalia to support the country's goal to strengthen its private sector, attract investment, improve public services, and create jobs.

Through the agreements, signed with Somalia's Ministry of Planning, Investment, and Economic Development, IFC will advise on reforms designed to encourage private investment in the energy, ICT, and industrial infrastructure sectors and will help strengthen Somalia's business regulatory environment and increase the country's trade transparency.



Gamal M. Hassan, Somalia's Minister of Planning, Investment, and Economic Development, said, "IFC's advisory support will help Somalia tackle bottlenecks in the business environment and enable us to attract more investment from both domestic sources and the Somali diaspora, which is a national priority."
Jumoke Jagun-Dokunmu, IFC Regional Director for Eastern Africa, said, "Somalia's public and private sectors have shown their strong commitment to reform and grow the economy, which will improve access to goods and services for the people of Somalia and create jobs. Through these agreements, IFC will support Somalia's ongoing journey towards stability and development, a journey that that will ultimately benefit all its citizens and the wider region."
IFC has been engaged in Somalia since 2015, helping support economic growth. The new agreements fall under IFC's Somalia Investment Climate Program. The initiative is supported by the IFC Private Sector Development in Somalia Trust Fund, which is funded by the United Kingdom Department for International Development, the Danish International Development Agency, and the European Union. The trust fund was established in 2017 to address barriers to private sector investment.



In close collaboration with the World Bank and development partners, IFC helps governments worldwide enact pro-business reforms that foster open and competitive markets and business growth.
The International Finance Corporation (IFC) – a member of the World Bank Group – is the largest global development institution focused on the private sector in emerging markets. "We work in more than 100 countries, using our capital, expertise, and influence to create markets and opportunities in developing countries. In fiscal year 2020, we invested $22 billion in private companies and financial institutions in developing countries, leveraging the power of the private sector to end extreme poverty and boost shared prosperity," according to IFC.