Over 150 Kenyan businesses storm Addis Ababa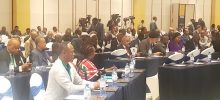 Led by President Uhuru Kenyatta of Kenya, over 150 CEOs of major Kenyan companies arrive at Addis Ababa, Ethiopia, this morning for the high level bilateral meeting.

Labeled, 'Strengthening Economic and Trade partnership', the Kenya – Ethiopia Trade and Investment Forum, is just opened at Skylight Hotel. Later the Forum is expected to be attended by Prime Minister Abiy Ahmed of Ethiopia and President Uhuru of Kenya. The purpose of this economic forum is to strengthen economic and trade partnerships between Kenya and Ethiopia.



The Forum is a follow-up of the agreements the two countries have signed to collaborate in different areas including trade and investment.
Some of the companies represented in the delegation are Kenya Airways, Kenyan Commercial Bank (KCB), Safaricom, and several manufacturing companies. In the coming two days, the Kenyan Business delegation will be discussing with the representatives of over 300 Ethiopia companies on possible business collaborations.
During the opening of the Forum a paper by the Ethiopian Investment Commission is presented about the business and investment opportunities in Ethiopia to the Kenya delegates.
The Kenyan government representative from Kenya Investment Authority has also presented about the investment opportunities in Kenya. Both presenters have indicated that I the coming years they are working to become one of the top manufacturing hubs in Africa.
Ethiopia and Kenya have signed special status agreement in 2012 to cooperate in multiple frontiers. The deal focused on infrastructure, food security, trade and investment.
Kenya and Ethiopia have a combined GDP of around $160 billion of $80 billion is Kenya's GDP. Kenya has 50 million people while Ethiopia has more than double that figure.