Five die from coronavirus in Ethiopia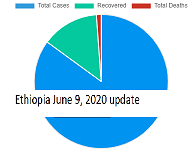 Five people die from coronavirus (COVID-19) in Ethiopia in the last 24 hours, the Ministry of health said.

This has increased the total number of people died in Ethiopia so far from the pandemic to 32. In its daily update the Ministry stated that 190 new coronavirus positive people are found in the last 24 hours. Out of the new infected people 153 are from the capital, Addis Ababa, 16 from Oromia, 10 from Amhara, 3 from Somali, 3 Harari, from Southern, and 2 from Tigray regions of Ethiopia.



Ethiopia has conducted laboratory tests for 4,599 people in the last 24 hours. Currently 32 patients are in critical condition, while 1,923 are getting medical treatment. The total number of confirmed coronavirus cases in Ethiopia now stands at 2,336.