African health ministers to discuss coronavirus in Ethiopia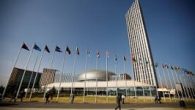 The health ministers from different African countries are set to gather IN Addis Ababa, Ethiopia tomorrow to discuss on how to combat coronavirus.

The minister along with partners will be meeting to discuss a coordinated approach in responding to the outbreak. They will be meeting at the African Union Headquarters in Addis Ababa will discuss and agree on a continental strategy to better prepare and respond to any new cases of the virus on the continent.



The will also discuss and agree on a common approach to receiving African students and citizens wishing to return from China, according to the statement from the African Union Commission. They are also expected to share knowledge and information about experimental drugs, vaccines and clinical trials currently being undertaken for the control of the coronavirus disease.
The coronavirus disease (COVID-19) outbreak was officially declared in January 2020, and since then the disease has been spreading very fast. It has affected over 25 countries, in addition to China. Last week Egypt reported the first case of the disease in Africa.
It is indicated that the African Union Commission has been engaging member states of the Union to learn and assess their preparedness for the outbreak. The meeting will be opened by the Chairperson of the African Union Commission, Moussa Faki Mahamat.