Ethiopia PM discusses reform with bankers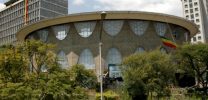 Prime Minister Abiy Ahmed of Ethiopia held discussions with heads and representatives of financial institutions to discuss the current reforms within the sector.

The sectoral reforms have focused on further capacitating financial institutions to be more competitive and competent towards strengthening their role in building the economy, according to the statement from the PM Office Press Secretary.



Replacing the governor of central bank of the country (National Bank of Ethiopia) and appointing new leaders the two state banks (Commercial Bank of Ethiopia and Development Bank of Ethiopia) were among the measures taking by the reformist prime Minister Abiyy after he took office in March 2018.
The statement indicated that discussions with financial institutions is concluded on Monday committing to broaden their support to national public sector projects.
The statement noted that discussions explored the following key issues
– i. key milestones in financial sector reforms made so far;
– ii. identification of policy, procedural and governance bottlenecks within the sector;
– iii. Identification of roles and responsibilities of the financial sector in strengthening the country's economy; and
– iv. the important role played by the sector in financing public projects.
Currently there are 16 private banks and two state baks in Ethiopia, with the latter having over 61% market share. Ethiopia is one of the few countries in the world, which has not yet liberalized its financial sector for foreign in investors.
In a related development, Prime Minister Abiy is has also began discussions with Ethiopian foreign policy with diplomats. He emphasizes that it's important to understand global trends as diplomats and to ensure there is alignment of thought and practice among themselves grounded in clarity of Ethiopia's foreign policy.
"Moreover, Prime Minister Abiy Ahmed highlighted the role of diplomats to act in service to Government policy, understand policies of countries of posting and maintenance of the rights of Ethiopians in mission countries. The discussions also aim to review the reforms that have been taking place within the Ministry and in Ethiopia's foreign policy," the Offcie of the Press Secretary stated.