Ethiopia collects $3 billion tax in five months
The government of Ethiopia has collected 83 billion (close to $3 billion) in the first five months of starting July 8, 2018.

The Ethiopia's Ministry of Revenue report shows that the 83 billion birr was collected from July 8, 2018 – December 7, 2018. Following the political instability the country went through over the past few years the tax collection of Ethiopia has not been growing as planned.



The growing of illegal businesses such as contraband trade and trade licenses with fake identification cards have also contributed to the poor performance tax collection of the country.
As part of the reform the country has launched following the coming of Prime Minister Abiy Ahmed to power, the Ministry of Revenue has established a customs commission and has been fighting the illegal trade.
As a result, over 704 million birr (around $25 million) contraband goods were confiscated by the customs commission over the past few months, according to the recently appointed Adanech Abebe, Minister of Revenue who talked to the state broadcaster ETV on Tuesday.
She stated that the people have contributed a lot in informing illegal trades to the revenue and customs authorities. After conducting through investigations on tax fraud, recently the Ministry of Revenue of Ethiopia has revealed 120 companies established with fake IDs. The case of these individuals is now being handled in the court.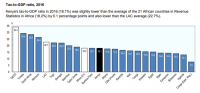 During the budget year (July 8, 2016 – July 7, 2017), Ethiopia has collected a total revenue of 135.53 billion birr (around $ 6 billion at the then exchange rate). In four months (from July 8, 2017 – November 9, 2017) shows that it has collected 57 billion birr (around $2.1 billion at the then exchange rate), while the target for the period was 68 billion birr (around $2.5 billion).It has achieved 78% of its target for the year.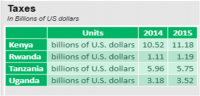 Compared to the Sub Saharan African average Ethiopia's tax to GDP ratio is low. The share of tax revenue amounted to only 13.3 percent of the GDP. In comparison, in 2017 Kenya's Tax-to-GDP ratio  was 19.3 percent, which is the 2nd highest in non-oil economies within Africa.