Ethiopia fails to meet reserve fuel target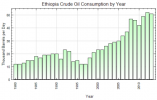 The Ethiopian Ministry of Mines and Energy (EMoME) failed to meet national target of increasing reserve oil of the country to 588,000 cubic from it was at 130,000 cubic meters five years ago. 

This is indicated in the five year performance report of the ministry presented to the parliament this afternoon, June 16, 2010.
Reporting to Natural Resources and Environmental Protection Standing Committee of the parliament, Minister of EMoME, Alemayehu Tegenu, indicated that the ministry failed to achieve the target mainly due to budget constraint.
At the moment the total storage capacity of Ethiopia's oil depots is 369,800 cubic meters, while it was at 279,800 cubic meters five years back. The 90,000 cubic meters additional storage capacity is obtained after two oil depots built in Sululta and Combolcha towns are completed, Alemayehu noted.



Meanwhile, the target set five years ago was to make the national reserve oil enough for three months incase of emergency by increasing it to 588,000 cubic meters.
Speaking on the current total reserve of the country, the minister however didn't tell the parliamentarians whether all the existing depots are full of reserve oil or not at the moment. He simply replied by saying it is not at the situation, which the country has to worry much about.
According to Alemayehu, the current regional and global situation has also convinced the ministry to invest on building infrastructures instead of using money for purchasing the previously target amount of reserve oil.
The minister also noted that around 99.7 million liters of oil is used from the reserve in the past five years and enabled the country escape the times fuel supply was not smooth.
In the past five years, the ministry spent 44.5 billion birr. Out of this, 21 billion birr was spent on energy development while over 7 billion birr was used for power transmission, the ministry's report noted.
The minister also noted that the country has continued oil exploration covering upto 75 percent areas of the country and so far four wells were dug in Gambella and Ogaden areas.  However, the two in Gambella region are found dry and assessment on the two wells in Ogaden area is still underway.
Commenting on the security situation in Ogaden the minister said that they are working peacefully in collaboration with the military and police forces in the area.