Ireland to help Ethiopia develop tourism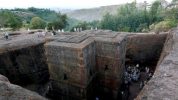 After visiting Ethiopia's historic tourist attractions,the Prime Minister of Ireland, Leo Varadkar, has promised to support Ethiopia's effort to maintain its tourism attractions and heritages.

On Thursday he visited the rock-hew Labella churches in Amhara Region of Ethiopia. Lalibella is registered by the United Nations Education and Science Organization (UNESCO) as one of the wonders of the world.



Standing on the site in his barefoot, the Irish PM told reporters it was his dream to come and visit the Lalibela churches. "It is a privilege to me to visit Lalibela churches. I am happy to be here today fulfilling my childhood dream of visiting this church… Ethiopia is one of the earliest Christian kingdoms in the world.
Ethiopia and Ireland has begun diplomatic relations 25 years ago. The Irish Aid has been providing annual assistance of around 30 million euros to Ethiopia for the past few years. The Irish PM has indicated that his country will provide assistance to preserve the Lalibela Rock Hewn Churches, which is endangered because of cracks on some parts of the walls.
Ireland will participate in the effort of rescuing the endangered Lalibela Rock Hewn Churches using its experience. The two countries are expected to sign a three years' cooperation roadmap in Dublin in the coming May.
Promotion of tourism and greening the tourist areas such as, Lalibella are among the areas of cooperation, which Ethiopia and Ireland will be focusing in the coming three months, according to Dr. Hirut Kassahun, Minister of Culture and Tourism of Ethiopia.
"This (maintenance of Lalibela) is one of the projects we will be including in our partnership agreement. But in general we will be cooperating with the Government of Ireland on tourism and cultural heritage," she said, stressing the significance of prime Minister of Ireland's visit to Ethiopia's tourist destinations such as, Lalibela.
After completing his visit in Lalibela Rock Hewn Churches, Prime Minister Leo Varadkarhas continued his visit today traveling to the Obelisk of Axum, another historic tourist site in the Northern part of Ethiopia in Tigray Region.