Leaked document exposes TPLF plan to attack first Ethiopian army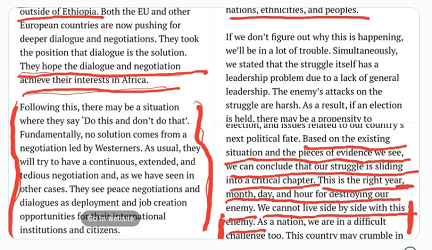 A leaked strategic document prepared by TPLF in October 2020, reveals that TPLF has planned to attack first Ethiopian army base in what it calls "to destroy the enemy as an important strategy".

"…Therefore, it is imperative to take military and strategic offensives, which include a clear motivation to destroy the enemy as an important strategy. We must lead and coordinate this strategy of attack by disrupting the enemy's military balance, and we must engage in military and national aggression without compromising our own defenses," TPLF leaked document stated.



"This is not done for others, but primarily for us. If the enemy gains strength and momentum its first, second, and third goal are to destroy the people of Tigray. Now the enemy's political and economic landscape is in shambles and so Its military standing must be compromised. This needs to be transformed into a strategic attack. In fact, in a timely manner."
"To have the view of waiting while the enemy strikes and defending its attacks will weaken us and make us more vulnerable to engage the enemy by its own tactics, preferred time, and organization. This should be a strategy we should be weary of and avoid."
"Even in military science, war is a scientific act based on pre-war action, which is based on pre-emptive warfare in the event of a serious and unpredictable /unprecedented situation/threat. When will this strategy be implemented? How and by whom? What will happen? This will be answered by a strategic war plan focused on shaking the foundation, destabilizing, and destroying the enemy," the leaked TPLF document stated.



It is recalled that though the late propaganda chief of TPLF has admitted on Tigray TV that TPLF has started the war on November 4, 2020 by attacking Ethiopian military base in Tigray, the leaders of the rebel groups have been blaming the government of Ethiopia for starting the war.
Asa result of the some 11 months war, thousands of people from both sides have been killed while millions have faced humanitarian crisis and displacements. The translated English version of TPLF-leaked document can be found here.
Dear Ethiopians, here is #English_Version of the TPLF's #strategy which was leaked last week. Thus we need to disseminate the document to the International Community & media outlets. It's a valuable material to disclose the truth about #TPLFTerroristGrouphttps://t.co/2rhmCHvKIW

— Seyoum Teshome (@seyoum_teshome) September 22, 2021
"The preparation of Tigray: First and foremost, the people of Tigray must be prepared for this war, as part of Tigray's capacity-building efforts. First, we must complete the political readiness. This political impulse and decision-making will lead to many obstacles," TPLF stated in its document.
"To change the outlook of the people to look at the war as a means of survival; building resilience within every member of the population (young and old) for the challenges to come; also build capacity in terms of the military by making sure to do our best in ensuring that we are fully prepared, based on our manpower, organization, and skills. In addition, the core and the front line should be closely monitored as a unified force through large-scale propaganda campaigns. This also needs to be seen in the light of strengthening the organization, manpower, and resource mobilization," the leaked document stated.