Ethiopia awards $752 million road construction projects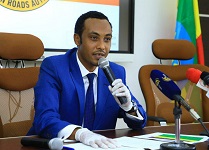 NEWS- Ethiopian Roads Authority on Thursday awarded 15 road construction projects worth 25.8 billion birr (about $752.2 million) for Chinese and local contractors.

The total length of the roads the Authority awarded are 1,022 kilometres long. The construction will be fully financed by Ethiopian government and 13 of the 15 projects are asphalt roads. The roads will be constructed in different parts of Ethiopia by four Chinese and seven Ethiopian construction companies.



During the signing ceremony held in Addis Ababa the Director of the Authority, Eng. Habtamu Tegegn, indicated that 11 of the 15 projects are awarded to local construction companies. He indicated that the fact that seven out of the 11 companies to who the projects are awarded indicates the growing capacity of domestic construction companies.
The completion period of the projects range from one year to four years, according to Eng. Habtamu. Representatives of the construction companies have indicated that they will do their best to complete the construction of the roads on time. Eng. Habtamu stated that recently the Authority has launched construction of 20 new road projects after completing another 15 road projects. Over the past year Ethiopia's road network has been increasing reaching 121,171 kilometres in 2018.