Addis Ababa warns tax dodging real estate developers
The Addis Ababa City Administration has warned over 100 real estate developers engaged in tax dodging and has been misusing the land they secured from the city administration. In recent years, tax avoidance and evasion has been a major concern in Ethiopia.

Currently 103 real estate developers who are building houses on 433,468 square meters of land are not paying taxes. This is indicated by the investigation ream of the city administration, which has held a meeting for the second time with real estate developers in Addis Ababa on Wednesday afternoon.



The investigation also revealed that only 6 real estate developers are properly paying taxes, while 21 other have stopped paying taxes.
In addition the investigation also found out that many real estate developers have expanded their territories illegally, misused the land for the unintended purpose ad also transferred to third party unlawfully.
Deputy Mayor Takele Umma, warned real estate developers who are engaged in illegal business that his administration will take legal measures against them.
Appreciating the role of the real estate developers, which are conducting their business legally in solving the housing problem of the city, he indicated that his administration can't tolerate those who violate the laws.
He warned the real estates, which are not paying lease and related property taxes to the city administration, to start paying or the city administration will take over their properties considering the properties as ownerless.
In Addis Ababa real estate development is considered as one of the biggest business investments with the transaction of billions of birr in the market. Meanwhile, most real estates in Addis Ababa are not affordable to the majority of the inhabitants of the city. Most of the real estate developers target Ethiopians in the diaspora.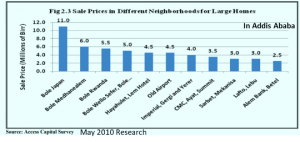 The cheapest price for one house of a real estate in Addis Ababa range from 1.5 – 4 million birr ($54,000 – $144,000), according to a paper by Selam Yohannes Gebremedhin submitted to Addis Abaaba University i 2016.
"…the number of leased companies in A.A is really big number (that would constitute a registered capital in the market of 53 billion birr), when actually operating numbers are less than 3% of this total," the paper indicated.