Addis Ababa city launches land, public houses audit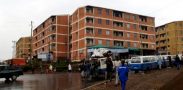 Addis Ababa City Administration has started auditing public houses, condominiums and land found in the capital.

The purpose of the audit is to curb corruption and ascertain equity in public delivery system, according to Deputy Mayor of Addis Ababa City Administration, who briefed the media on Wednesday.



"Pertinent evidence is being gathered to foil the illegal land grabbing and misuse of public owed houses in Addis Ababa. As soon as the auditing is completed, the findings will be announced to the public for further precautionary measures for fighting corruption that is rampant in the city," she said.
She urged the community to provide information regarding land and housing related corruption.
After taking office a month ago, Takele Uma Benti, the new mayor of Addis Ababa serving with deputy mayor title, has freeze land allocation and transfers in Addis Ababa. The decision aims to review land related matters and come up with new ways of addressing problems related to land in Addis Ababa.
One of the fastest growing cities in Africa, Addis Ababa comprises 6 zones and 28 woredas (districts). The city is divided into 328 dwelling associations (Kebeles) of which 305 are urban and 23 rural. The city council is made up of 18 bureaus, offices and authorities. Amharic is the working language of the city administration.
Addis Ababa is the diplomatic capital of Africa. More than 92 embassies and consular representatives cluster in the city where the Organization of African Unity and the UN Economic Commission for Africa have their headquarters.
Population
According to the 1994 census, the population of Addis Ababa is 2.3 million of which 28,149 are living in the rural parts of the city. Of the total population 51.6% are females while 48.4% are male.
As capital of the country, Addis Ababa is a city where, despite differences in number, almost all-ethnic groups live in. However, the major ethnic groups are, Amharas 48.3%, Oromos 19.2%, Guragies 17.5%, Tigrains 7.6%, and others all together 7.4%.
Regarding religion, 82% of the population are Orthodox Christians, 12.7% Muslims, 3.9% Protestants, 0.8% Catholics, and 0.6% followers of other religions (Hindus, Jews, Bauhaus, Jehovah, Agnostics…).