Opportunities to boost sesame production in Ethiopia
By Elias G/Selasssie – Sesame is one of the major commercial grain crops agricultural products of Ethiopia. It is one of the oil seeds, the country has been producing in the Northern parts of Ethiopia mainly in Tigray and Amhara regions mainly Gondar area.

It is mostly produced by smallholder farmers though there are some commercial farms that produce sesame seeds in Ethiopia. About 44 percent of sesame seed production comes from Amhara region of Ethiopia. It is followed by 31 percent from Tigray, and 13 percent from Oromia region. Benshangul-Gumuz region, Southern region of Ethiopia , and Gambella region, respectively account for 9 percent, 2 percent and 1 one of the total production, according to the information from the Ministry of Trade and Industry of Ethiopia.



The production of sesame and oil seeds in general has been growing in recent years. Ethiopia has produced a total of 8,598,531 quintal of oil seeds in the 2017/18 two harvest seasons (Belg and Meher seasons) covering 879,551 hectares of land. The share of commercial farms meanwhile is small. Out of the total production 18 percent is produced by commercial farms, according to the Central Statistics Agency of Ethiopia (CSA) Agricultural Sample Survey for 2017/18.
During the following 2018/19 Meher harvest season (September to February), Ethiopia produced a total of 7,850,196 quintals of oil seeds ( Neug, sesame and linseed). Out of this, Sesame represents 2,016,646 quintals of produce, which covered 294,819 hectares of land, according to the 2018/19 Agricultural Sample Survey by CSA. The report of CSA shows that all the 2,016,646 is produced by 474,747 smallholder farmers.

For the year 2019/19 harvest season, Ethiopia expects to produce 340,000 metric tons, up 40,000 metric tons from previous year. The total area for sesame production remains unchanged at 600,000 hectares.
Sesame Market
Sesame has been one of the export items of Ethiopia, mainly to China and other Asian countries including India and Pakistan. Ethiopia is a major sesame seed exporter in the world market. In 2005/06 Ethiopia exported 237, 565 tons valued at about $198 million (84 million Birr), accounting for roughly 94% of the total export earning from oilseeds and 19% of total national export earning, according to the Ethiopian Commodity Exchange (ECX).
The world production of sesame seed reached 3.3 million tons in 2004, with world exports totaling 802,063 tons worth $650 million. The volume of world sesame imports reached 903,368 tons valued $846 million in 2004, according to ECX, which has been enraged in facilitating trading of Sesame in Ethiopia.
Processed Sesame
When sesame is processed it will be converted to a product called tahina (tahini), a tasty sesame paste that may help lower cholesterol and blood pressure, protect against hormone-related cancers, and maintain bone health.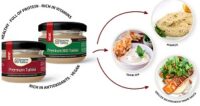 The tiny seeds of sesame will be grounded to be converted into tahina. Tahina is a common rather staple food the Middle East and the Mediterranean. Recent reports show that Israel has become the top export destination for Ethiopian sesame seed, followed by China and United Arab Emirates.
Israel accounted for about 28 percent of the total exported volume this year. While, China and UAE respectively seized a market share of 18 percent and 13 percent.
Investment opportunity
Globally, Sesame seed exports are forecast to reach 285,000 metric tons in MY 2019/20, surpassing the previous year by 70,000 metric tons.
With hundreds of thousands of hectares of suitable lands for growing sesame and perfect climate, Ethiopia has a huge potential for additional investment especially in commercial farms expansion. There is an enormous potential to expand sesame seed production in Ethiopia through cultivation of additional new land, according to Association of Ethiopian Pulses, Oilseeds and Spices Processors -Exporters.
The country can also boost its share of sesame export in the global market by improving the traditional systems the smallholder farmers are currently using to grow sesame.
A 2015 study by Abadi Berhane Girmay from Axum University stated that Sesame production in most areas is carried out under traditional production systems which results in low production and productivity of the crop.



His paper also stated that due to the variation in climatic conditions, the national productivity of sesame is varying from year to year ranging 7-8 quintals per hectare. "These necessitates improving the production techniques, improve productivity, and developing varieties with higher production potential," the study of Mr. Abadi suggested.
He also stated the need for "wider adaptability, application of improved crop protection techniques, and enhancing soil moisture to stabilize crop growth and development and capacity building for experts on agronomic, crop improvement and crop protection across the sesame growing areas" to have vital role in providing modern sesame production systems in Ethiopia.