Canadian Council on Africa finds partner to enhance trade with Canada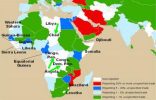 The Canadian Council on Africa "CCAfrica" and Elevate Export Finance Corp. went into a strategic partnership to enhance the promotion of trade between the continent of Africa and Canada.

Elevate, an established partner of the Canadian government's Export Development Canada (EDC) will offer African Companies Competitive rates, medium-term loans of up to $10 million USD via a streamlined process and supported by Elevate's private lending network.
Ed Walsh President of Elevate had this to say, "Partnering with CCAfrica was a very easy decision. Our focus of helping Canadian manufacturers grow their export business will be enhanced in working with Nola and the CCAfrica team. Their network and connections married with our great financing product will allow trade to flourish between Canada and Africa."



Canadian exporters are open to looking at new markets given all the uncertainty with their existing trading partners. Africa represents a significant growth opportunity for many Canadian companies.
Nola Kianza, President and CEO of CCAfrica commented, "We have known for a long-time the opportunity that exists in Africa and we believe that introducing the right the right type of financing will accelerate trade between Africa and Canada. African companies will benefit from the superior technology and expertise that exists with Canadian manufacturers".
CCAfrica is a not-For-Profit and a Pan-Canadian organization with offices across Canada. Its mission is to promote Investment and Economic Development between Canada and the Continent of Africa. Created in 2002, members of CCAfrica represent all the sectors of the Canadian economies. In addition, CCAfrica has signed an agreement with the government of Canada to organize and lead the official delegation to Mining Indaba conference in Cape Town, South Africa.
Elevate, a Canadian-based lender, has partnered with Export Development Canada (EDC) and financial institutions to provide the customers of Canadian small and medium-sized businesses with structured finance solutions. It lends to foreign buyers of Canadian Exporters to help support Canadian Export Success.