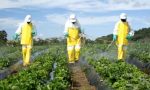 Invitation for bid from Ethiopian Trading Businesses Corporation, the state agency, to supply pesticides and spraying equipment. Tender No.ET-ETBC-CPU/NCB-10/2019

By Mekonnen Teshome – Sheikh Mohammed Al-Amoudi, the 2nd richest business person in Africa next to Aliko Dangote, funds the bio-pesticide research conducted on Phytolacca dodecandra L'Herit, a sprawling woody climber plant.

Natani Café, Bar, and Restaurant in Addis Ababa, Ethiopia introduces a new restaurant with only seasonal organic vegetables, which is free from pesticides or fertilizers.