Global automotive battery testers market 2021-2025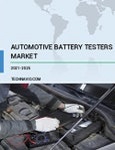 The automotive battery testers market is poised to grow by $70.42 million during 2021-2025, progressing at a CAGR of almost 4% during the forecast period.
The report offers an up-to-date analysis regarding the current global market scenario, latest trends and drivers, and the overall market environment. The market is driven by the increasing lifespan of vehicles leading to growth in vehicle population and the convenience of online purchase of automotive products such as battery testers.



The automotive battery testers market analysis includes the type segment and geographic landscape. This study identifies improving automotive aftermarket distribution channel and supply chain network as one of the prime reasons driving the automotive battery testers market growth during the next few years.
The report on automotive battery testers market covers the following areas:
Automotive battery testers market sizing
Automotive battery testers market forecast
Automotive battery testers market industry analysis
The robust vendor analysis is designed to help clients improve their market position, and in line with this, this report provides a detailed analysis of several leading automotive battery testers market vendors that include Clore Automotive LLC, EZRED Co., Gamela Enterprise Co. Ltd., Meco Instruments Pvt. Ltd., Midtronics Inc., PulseTech Products Corp., Robert Bosch GmbH, Schumacher Electric Corp., Shenzhen Foxwell Technology Co. Ltd., and SUNER POWER TECHNOLGO Ltd. Also, the automotive battery testers market analysis report includes information on upcoming trends and challenges that will influence market growth. This is to help companies strategize and leverage all forthcoming growth opportunities.