Tokyo to host meeting on Investing in Africa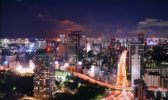 The African Development Bank is set to organise a seminar focusing on investments in Africa on 29 November 2018 in Tokyo, Japan, in collaboration with Japanese private sector.

The investment needs to finance Africa's Sustainable Development Goals are estimated at about US$600-700 billion per annum. To keep pace with population growth, rapid urbanization, and consumer demand, and to sustain economic development, Africa will need about US$130-170 billion a year in infrastructure investment up until 2025.



These needs cannot be tackled by the Public Sector such as Governments and Multilateral Development Banks alone. They also require broad-based partnerships and a collective effort with the Private Sector playing an active role.
The Bank's Asia External Representation (SNAR), a major promoter of Africa-Japan business and investment, will organise this seminar to accelerate the momentum for Japanese business community to further explore business and investment opportunities in Africa. This will also boost momentum for successful organization of the Seventh Tokyo International Conference on African Development (TICAD 7) in August 2019.
Shinichi Saida, Deputy Director-General/Deputy Assistant Minister, African Affairs Department, Ministry of Foreign Affairs as well as Tadashi Yokoyama, Head of SNAR will provide opening remarks.
This seminar will publicise highlights of Africa Investment Forum taking place on 7-9 November 2018 in Johannesburg, South Africa.
The main objective of this seminar is to promote investments in Africa. Focus will be placed on case studies explained by Japanese private sector.