Business license deactivation growing in Ethiopia
The number of businesses who deactivate their business licenses has been increasing over the past few years reaching 737,930.

The date New Business Ethiopia received from the Ministry of trade last month shows that in 2018 a total of 737,930 business licenses were deactivated across the nation, while the figure for 2014 was 263,350. Out of the total deactivated business licenses in 2018, 708,306 were licensed in the capital, Addis Ababa.



The total number of active business licenses in Ethiopia at the end of 2018 was only 91,517, of which 83,122 are found in Addis Ababa.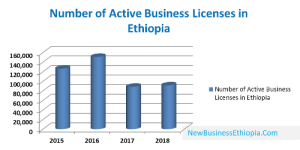 "The figures are surprising. One can't cat expect less than 100,000 active businesses in a country with over 100,000 million population. This tells a lot about the business climate of the country as well as the behavior of the business owners," says Melaku Kinfegebriel, Business consultant at Noble Consulting Solution.
"The government also needs to do more investigations why over 700,000 businesses – seven times more than the active businesses – decided to deactivate their licenses in just one year. I know many people setup a company to do one time business and return the license. But the figure is alarming and tells the government to sit down and find out what causes businesses to deactivate licenses. Otherwise, it will be hard for the government to boost its tax collection as well as improve the current not so good doing business ranking of Ethiopia," he says.
Recent reports also show that people have been getting businesses license with fake identification cards, which will enable them to escape tax.
About a month ago, the customs authority of the country has found out that over 100 businesses were registered by individuals using fake identification cards.
Out of those illegible taxpayers in Ethiopia, only 60% are paying, according to Adanech Abebe, Minister of Revenue of Ethiopia.

"I think implementation of digital biometric identification at national level can help fight such fake businesses. But the government also needs to make easy doing business in Ethiopia by conducting proper study," Mr. Melaku suggests.
It is recalled that recently the reformist Prime Minister Abiy Ahmed has promised to improve the Business Doing ranking of Ethiopia in the coming few years. In 2018, World Bank's Doing Business index ranked Ethiopia 159th out of 190 countries reviewed.