London set to host World Patient Safety, Science & Technology Summit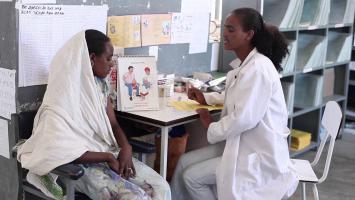 By Andualem Sisay Gessesse – The Patient Safety Movement Foundation (PSMF) announces that the 6th Annual World Patient Safety, Science & Technology Summit will take place in London on February 23-25, 2018.
Rt. Hon. Jeremy Hunt MP, the Secretary of State for Health from England's Department of Health, invited PSMF to hold its 6th annual Summit in London during his speech at the Summit in February of this year. This is the first time the Summit will be held outside of the United States.



Over the years, the PSMF has taken an increasingly international scope to reach zero preventable patient deaths by 2020. They currently have over 30 Regional Chapters around the world and partnerships with global organizations such as, the World Federation of Societies of Anaesthesiologists (WFSA), European Society of Anaesthesiology (ESA).
It also include Global Sepsis Alliance (GSA), the Taiwan Patient Safety Culture Club, Sistema Español de Notificación en Seguridad en Anestesia y Reanimación (SENSAR), Edna Adan University Hospital and AC Camargo Cancer Center.
Nearly 1,000 hospitals outside of the United States are represented within commitments to eliminate preventable patient deaths. The PSMF's annual Summit brings together leaders from the hospital, healthcare, technology, public policy, and patient advocacy communities around the world to discuss solutions to address the leading causes of preventable patient death in hospitals.
"I am delighted that Joe Kiani and the Patient Safety Movement Foundation have accepted our invitation and are giving London the opportunity to hold this important Summit next year," said Rt. Hon. Jeremy Hunt, Secretary of State for Health for England.
"An international effort from leading countries will mean we can expand this movement to every corner of the world. Together, we can successfully promote a culture of intelligent transparency and learning that will lead to significant advances in patient safety worldwide."



"We are honored to be invited by Secretary Hunt to hold our annual World Summit in London next year," said Joe Kiani, Founder of the Patient Safety Movement Foundation.
"Achieving zero preventable patient deaths is a global concern that can only be solved through an international sharing of data, technology, policies, procedures, and resources. Secretary Hunt is doing tangible work in patient safety on behalf of the UK's National Health Service and last year played an integral role in co-convening the first Patient Safety Global Action Summit in London. I look forward to deepening and expanding our collaboration as we work toward protecting all patients from unnecessary harm and death."
More than 200,000 people die every year in U.S. hospitals and 3 million worldwide in ways that could have been prevented. The Patient Safety Movement Foundation was established through the support of the Masimo Foundation for Ethics, Innovation, and Competition in Healthcare to reduce that number of preventable deaths to 0 by 2020 (0X2020).
Improving patient safety will require a collaborative effort from all stakeholders, including patients, healthcare providers, medical technology companies, government, employers, and private payers. The Patient Safety Movement Foundation works with all stakeholders to address the problems with actionable solutions for patient safety.
The Foundation also convenes the World Patient Safety, Science & Technology Summit. The Summit brings together some of the world's best minds for thought-provoking discussions and new ideas to challenge the status quo.