Coronavirus deaths in Ethiopia increase to 19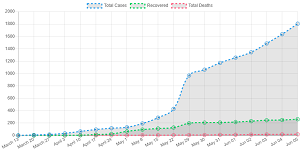 The total number of people died from coronavirus (COVID-19) has increased to 19 after one person died on Friday, the Ministry of Health said.

In its daily report the Ministry indicated that the number has increased to 19 after one patient has passed away from the global pandemic on Friday.
The report stated that in 24 hours the country has conducted laboratory test of COVID-19 for 5,798 and found 169 new cases of which one is an American citizen.



So far Ethiopia has conducted laboratory tests of coronavirus for 131, 368 people. The total number of coronavirus positive people found in Ethiopia including the 169 found on Friday is 1,805. Out of these, 262 patients have recovered, two Japanese have returned to their country. Currently 1,522 are getting treatment of which 18 are in critical condition, according to the report of the Ministry.