105 recover from COVID-19 in Ethiopia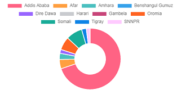 The total number of people recovered from COVID-19 (coronavirus) global pandemic has increased to 105, the Ministry of Health of Ethiopia said.

The Ministry indicated that 6 patients of COVID-19 have recovered during the last 24 hours. The statement also indicated that 11 new COVID-19 cases are identified in Ethiopia from 1764 laboratory tests the country has conducted in the last 24 hours. Now the total confirmed coronavirus case of the country to 250 of which five have died so far.



Out of the 11 new cases, five are from the capital, Addis Ababa, while two are from Tigray Region of Ethiopia. Three are from Afar Region and one from Oromia region of the country. Most of the COVID-19 positive cases in Ethiopia are reported in Addis Ababa.
In Africa, Algeria and Egypt are the top affected countries by COVID-19 losing over 500 lives each. As of today may 11, 2020, a total of 53 African countries have reported 63, 235 cases, 2,290 deaths, and 21, 821 recoveries from COVID-19, according to Africa Center for Disease Control (CDC).
The pandemic has claimed over 283,000 lives across the world infecting over 4.1 million people of which over 1.3 million have recovered. The United Sates, which lost over 75,000 lives so far is the top country hit severely by the pandemic. Spain, Italy, United Kingdom, France have also lost tens of thousands of lives by COVID-19, which originated from China.