Tag:
Car assembly in Ethiopia

Using motorcycle engine, an Ethiopian high school student invented a vehicle that travels 40 kilometers using one liter of fuel.
Continue Reading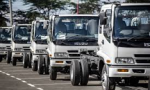 Isuzu Motors Ltd said it has finalized preparations to open a vehicle assembly plant in Ethiopia in August 2019.
Continue Reading

The Korea auto brad Hyundai has opened a assembly plant in Ethiopia. The Assembly is opened by the agent of Hyundai in Ethiopia, Marathon Motors, which is owned by Ethiopian Olympic medalist, Athlete Haile Gebresillassie.
Continue Reading