Number of refugees in Ethiopia rises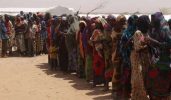 The number of refugees in Ethiopia has crossed the 900,000 mark with 920, 262 men, women, boys, girls and children registered in the country as of 31st May 2018, says the UN agency for refugees.
In Addis Ababa there are more than 22,000 urban-based refugees. This comes at a time when global forced displacement figures reached 68.5 million, according to the United Nations Higher Commissioner for Refugees' (UNHCR's) Global Trends report 2017.



Among them were 16.2 million people who became displaced during 2017 itself, either for the first time or repeatedly – indicating a huge number of people on the move and equivalent to 44,500 people being displaced each day, or a person becoming displaced every two seconds.
Ethiopia plays host to refugees from more than 20 nationalities but the four main groups are South Sudanese 443,352, Somalis 255,943, Eritreans 169,252 and Sudanese 43,952.
In order to celebrate the courage and resilience of the refugees in Ethiopia and elsewhere as well as to focus the public's attention on their plight, UNHCR together with the government refugee agency-ARRA- and other partners, has been organizing different activities to mark World Refugee Day focusing on the need for solidarity with refugees.
All the 26 camps and other refugee sites across the country are organizing World Refugee Day events with activities ranging from sports activities and cultural shows to tree planting, cleaning the environment, recognizing the contributions of refugees to their communities as well as blood donation.