Ethiopia, Somalia Army Chiefs of Staff met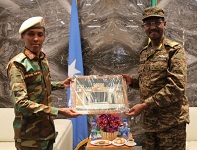 The Chief of Staff of Ethiopian Army and that of the neighboring Somalia have met today and discussed military cooperation.

Somalia's Army Chief of Staff, Brigadier General Odowaa Yusuf Rageh, and his counterpart of Ethiopia, General Birhanu Jula, have discussed on how Somalia will strengthen its defense force, according to the report by Ethiopian National Defense Force shared on its official social media page.
During the meeting of the two army officials have stressed the vital role of the African Union Mission in Somalia that includes Ethiopian troops (AMISOM) in fighting the terrorist organization in the region – Al Shabaab.
Brigadier General Odowaa Yusuf Rageh indicated that such practical role of the neighboring countries such as, Ethiopia is much better and vital for Somali than some countries' unfulfilled promises in fighting Al Shabaab and rebuilding Somalia, according to the report.
General Birhanu Jula on his part stated that his country's national Defense Force is always ready to support the effort of the Government of Somalia to build its own strong defense force.
The two officials have stressed that as peace and stability of the two neighbors is interdependent, collaboration to eliminate terrorist groups like Al Shabaab, is their common objectives.