Foundation carries out 100,000th trachoma surgery in Ethiopia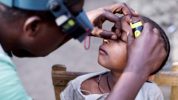 International development organization the Fred Hollows Foundation, in partnership with the Government of Ethiopia and the Oromia Regional Health Bureau, has carried out its 100,000th trachomatous trichiasis surgery in the Oromia region.
The FredHollows Foundation Ethiopia Acting Country Director Dr Zelalem Habtamu said the milestone was part of a coordinated effort by NGO partners, donors and government to tackle blinding trachoma.



The 100,000th surgery was performed on an 80-year-old woman, Kemeru Abdela, in the East Hararghe Zone of Oromia. In Oromia region, 27 million people are at risk of developing the disease and 150,000 are in danger of losing their sight without surgery.
Dr Zelalem said Ethiopia had the world's highest burden of trachoma, a painful but preventable infectious eye disease, with more than 76 million people living in trachoma endemic areas and up to 800,000 people at risk of blindness.
"That's why The Fred Hollows Foundation is working with our partners to massively scale-up our work to eliminate trachoma as a public health problem.
"The Foundation's biggest project is in Ethiopia through our partnerships we are making strong progress, saving the sight of hundreds of thousands of people and reducing the national surgical backlog by some two-thirds.
"When The Fred Hollows Foundation started work in Oromia about four years ago there were 150,000 people desperately waiting for surgery. We have made massive inroads into the problem and will continue our efforts to ensure everyone who needs surgery gets it and that together we eliminate trachoma in Ethiopia."
The Foundation's trachoma elimination work is supported by the UK Department for International Development (DFID), Sightsavers and in part with funding from the US Agency for International Development (USAID) as part of the ENVISION project, led by RTI International, and the MMDP Project, led by Helen Keller International.
Trachomatous trichiasis surgery is part of a comprehensive trachoma prevention strategy that also includes distribution of antibiotics and education to raise awareness about the importance of facial cleanliness and environmental improvements.
The Foundation is also training surgeons, eye care workers, community health workers and teachers to eliminate trachoma from Ethiopia.
Dr Zelalem said trachoma could only be eliminated if everyone adopted the WHO SAFE strategy of surgery, antibiotics, facial cleanliness and environmental improvements.
Last year, as part of delivering the WHO SAFE strategy, the Fred Hollows Foundation distributed more than 17 million doses of the antibiotic Zithromax®, donated by Pfizer.
"At the community level, people also need to make sure they look after their eye health and take the opportunity to have their eyes checked at mobile clinics," Dr Zelalem said.
"By working together at the community level, we can eliminate this ancient disease throughout Ethiopia," he said.
Since its beginnings in Fred and Gabi's kitchen, The Foundation now works in more than 25 countries and has restored sight to over two and a half million people.
Key facts
Trachoma is a disease of the eye caused by infection with the bacterium Chlamydia trachomatis.
It is known to be a public health problem in 41 countries, and is responsible for the blindness or visual impairment of about 1.9 million people. In 2016, 190.2 million people lived in trachoma endemic areas and were at risk of trachoma blindness.
Blindness from trachoma is irreversible.
Infection spreads through personal contact (via hands, clothes or bedding) and by flies that have been in contact with discharge from the eyes or nose of an infected person. With repeated episodes of infection over many years, the eyelashes may be drawn in so that they rub on the surface of the eye, with pain and discomfort and permanent damage to the cornea.
The World Health Assembly adopted resolution WHA51.11 in 1998, targeting the global elimination of trachoma as a public health problem.
The elimination strategy is encapsulated by the acronym "SAFE": Surgery for advanced disease, Antibiotics to clear C. trachomatis infection, Facial cleanliness and Environmental improvement to reduce transmission.
In 2016, more than 260 000 people received surgical treatment for advanced trachoma, and 85 million people were treated with antibiotics. Global-level antibiotic coverage was 44.8%, a considerable increase compared to the 29.6% coverage achieved in 2015.