Deaths from COVID-19 in Ethiopia increases
The total number of death by coronavirus (COVID-19) has increased to six after one new death is reported this afternoon.

The Ministry of Health of Ethiopia stated that a woman sent to intensive care unit (ICU) yesterday had passed away last night. This has increased the total number of death from COVID-19 in Ethiopia to six. During the last 24 hours 46 new coronavirus positive people are also found.



The new coronavirus infected people are found after the country conducted laboratory tests for 3,410 people suspected of having the global pandemic. The total number of confirmed coronavirus cases in Ethiopia has now increased to 701.
Eight COVID-19 patients have also recovered today increasing the total number of people recovered from the pandemic in Ethiopia so far to 167. Report of the Ministry shows that most of the people found infected by coronavirus in Ethiopia (around 450 of the total 701), are based in the capital, Addis Ababa.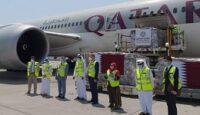 Qatar donates nine tons of medical supplies to Ethiopia
In a related development the Government of Qatar today donated nine tons of medical supplies to the Government of Ethiopia to help the eastern African country fight COVID-19. The donation is made through Qatar Development Fund, according to the Embassy of Qatar in Ethiopia.