Ethiopia inaugurates grand library in Addis Ababa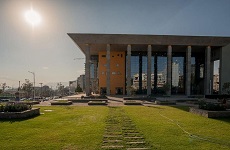 Prime Minister Abiy Ahmed of Ethiopia today inaugurated grand public library built in Addis Ababa Arat killo area.

Initiated by Prime Minister Abiy Ahmed a few years ago, the building of Abrhot Library has cost the country 1.1 billion Birr. It is built on 19,000 square meters of land near the national palace. With 1.5 kilometers shelf length, Abrhot can contain 1.4 million books, 250,000 soft copy books, and 300,000 research papers.



The compound has parking space for 115 vehicles, a meeting hall, amphitheater, shops, café and reading and playing areas for kids.
Indicating that in Africa Ethiopia is the only country having its own alphabet letters and only 18 countries in the world have their own alphabets, Prime Minister Abiy Ahmed stressed the need for the country to transfer its rich history and civilization to the next generation using such libraries. The alphabets of the 18 countries is engraved on the wall of Abrhot library. Abrihot means enlightenment in Amharic language.
Abiy also stressed that the reason why the country often entertains self-inflicted conflicts is because of lack of knowledge and ignorance. "Our major problem is ignorance," he said, stressing the need for laying the foundation for Enlightened society in Ethiopia.



He urged the Major of Addis Ababa to build similar grand libraries in each of the sub cities. He also urged to properly maintain the library. He also indicated that near the new library a science museum is also under construction.