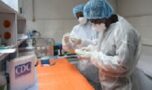 United States Centers for Disease Control and Prevention (CDC) supports public health laboratories in Ethiopia to bolster the COVID-19 response.
Continue Reading

Shashemene Hospital, which is found in Oromia Region of Ethiopia, has got a new state-of-the art outpatient department with maternity ward and emergency unit with operation room.
Continue Reading

Ethiopia gets its first national public health training center built by the finance from the United States government.
Continue Reading