Halo by PAWS announces significant feature updates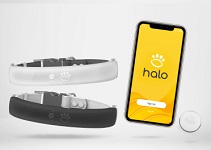 Halo by PAWS, developers of the world's most advanced pet safety technology, announces several updates to the revolutionary Halo collar.

An over-the-air firmware upgrade will enable all 15,000 Halo collars sold since November to benefit from even greater GPS accuracy as well as recognition of indoor vs. outdoor location, significantly improving the performance of Halo's virtual fences.



"At Halo, we are continually striving to improve our customer's experience with Halo, with the overarching goal of keeping dogs safe," says co-founder, Ken Ehrman.
"With location tracking of utmost importance to today's dog owners, Halo is adding the latest innovation in GPS and GNSS technologies to pinpoint where dogs wearing the Halo collar are at any given time, without delay, the moment they leave the safety of the house or apartment."
In addition to the increased accuracy of the Halo collar's satellite tracking system, the update will identify your dog's location in seconds, rather than up to a few minutes, even if your Halo has been off or indoors for long periods of time.
This gives customers peace of mind that their dogs can be instantly tracked the moment they set foot outside – and anywhere else they go.
We know that dogs move between indoor and outdoor spaces throughout the day. Now, Halo is able to recognize when your dog crosses through the thresholds of your home, showcasing just how "smart" this smart system is.
The new automated patent pending indoor-outdoor algorithm intelligently calculates the difference between the satellite signals that it receives inside your home vs. the signals it receives outside of your home; and when your dog is indoors, fence preventions are paused automatically.
In addition, Halo's proprietary Beacon training and boundary system now supports user-configurable ranges adjusted in the Halo app. The new and improved beacon boundaries allow users to customize ranges for their beacons according to what works best for them and their dog's needs.
Another new feature, based on training and user feedback, better correlates beacon behavior with the behavior of fence warning areas. What sets Halo apart is the ability of the smart system to recognize when a dog responds to Halo's prevention feedback by either stopping or turning around towards safety, both of which pause Halo's prevention feedback immediately.
"I had the opportunity to test this firmware for two months in preparation for this broader release," says Halo customer, Justin Wanca.
"This update has significantly increased the indoor to outdoor GPS transition but more importantly, I have seen a great improvement to overall accuracy of pet location to boundaries, alerts and corrections. Halo continues to innovate and make this product great for families and pets across the country."



The Halo Collar is the newest smart system & dog safety must-have. Made in partnership with Cesar Millan, this smart system utilizes proprietary technology & dog psychology to provide a wireless smart fence, smart training, GPS tracker and activity tracker combined into one easy-to-use smart collar.
The Halo Collar utilizes proprietary GPS and GNSS location tracking – keeping them safe and easy to locate should they ever wander too far.