Ethiopia closer to liberalize financial sector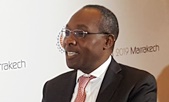 The Ethiopian Parliament today passes the African Continental Free Trade Area (AfCFTA) by officially beginning its journey to liberalization of the long awaited financial sector.

Ratification of the AfCFTA makes Ethiopia among the twenty countries that have approved the bill so far. The Parliament decision has followed the review of Ethiopia's Council of Ministers, which has approved it and referred it to the final legislative organ.



It was in March 21, 2018 that 44 African countries have signed the AfCFTA to form the largest continental free market area in the world with population of around 1.2 billion.
The passing of the bill makes Ethiopia to open its long awaited financial market, especially the banking sector for at least for African banks. This is because the financial sector is one of the five areas required to be opened by the parties of the AfCFTA under service sector liberalization.
"To the extent that Ethiopia becomes a state party to the AfCFTA, it has obligations to meet its commitment. And that commitment would include opening up the sectors that had been agreed to be opened up. I am saying the financial sector is one of the five services sectors that countries have agreed they are going to open up," Stephen Karingi, Director of the Regional Integration and Trade Division at the United Nations Economic Commission for Africa (UNECA) told NewBusinessEthiopia.com.
"…The major reforms that are taking place in Ethiopia shows I think is the government is very clear that it can be done. Already it has demonstrated that it is possible to undertake rapid reforms as we see now," he said, commenting on the relation between financial sector liberalization and the AfCFTA.
Stephen Karingi, who is in Marrakech, Morocco, for African finance ministers meeting, which is dealing with issues related to continental free trade among others, says in June last year under the AfCFTA it was agreed that the financial sector is one of the sectors to be prioritized under the services liberalization. He noted that by ratifying the AfCFTA bill Ethiopia becomes state party, which has the obligation to implement the deal.
Mr. Karingi indicated that by July this year, the AfCFTA is expected to go operational with at least 22 countries that have ratified it by their legislative organs. By implementing the AfCFTA step by step, Africa envisages to become the largest single continental economic community.