Report focuses on African agrifood industry organizations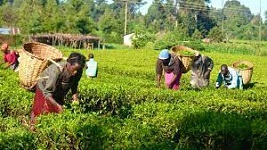 The "Agri-Food Industry Organizations (AFIOs) as Change Agents" report has been launched today during a webinar organized by AGRA (Alliance for a Green Revolution in Africa), the Bill & Melinda Gates Foundation and NewForesight.

AFIOs are member-based entities that integrate different value chain actors, represent the collective
business interests of their members, and work to address market failures. The AFIOs comprise
federations, unions, apex organizations, producer organizations, cooperatives, societies, chambers
of commerce, boards, and other business-interest groups from various agri-food subsectors.



The report, which is the result of a study in Nigeria, Tanzania and Ethiopia, will bridge the need for
evidence on the contributions of AFIOs to support Africa's agri- economic transformation.
Furthermore, this report provides a new lens to understand this organizations through a systemic
approach, helping donors, partners and other organizations to have a more comprehensive
understanding of these organizations.
Amongst the study's important contributions is the development of a framework to better define and
understand AFIOs by spotlighting these institutions and stressing how important it is to truly
understand them from a strategic perspective.



"While AFIOs enhance the business environment and the competitiveness of the agri-food sector,
they don't often get the attention they deserve. This report sheds light on their role in representing the interests of their members, they are a much needed addition to improving the competitiveness of the
agri-food space," said Dr. Agnes Kalibata, AGRA President and Special Envoy to the 2021 UN Food
Systems Summit.
"The report presents the key findings and opportunities for AFIOs to act as agents of change towards
IAT. The AFIOs, the study shows, can be strategic allies for different entities to increase their reach
to smallholder farmers and SMEs globally, while serving to consolidate the activities of the public,
private and development organizations for the quick attainment of IAT. There are interesting insights
from the research, but perhaps the most important is that there is potential for AFIOs to do more."