Ethiopian farmers to get nutrition information via hotline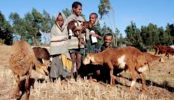 The Ethiopian Agricultural Transformation Agency (ATA) and Save the Children in Ethiopia agree to deliver nutrition-sensitive agricultural messages for Ethiopian farmers via a dedicated hotline service.

From rural to urban areas, malnutrition resulting mainly in stunting has been a major challenge in Ethiopia, according to several reports.  To provide nutrition related information, the two organizations will be using ATA's 8028 Farmers' Hotline, which has been dissemination agricultural information, according to the agreement.



Over the past decade, Ethiopia has seen a steady reduction in stunting from 58% in 2000 to 40% 2014, in the percentage of underweight children from 41% to 25%, and in wasting from 12 per cent to 9%, according to the 2014 Ethiopian Demographic and Health Survey.
Launched in February 2014 in four regions, ATA's 8028 Farmers' Hotline currently runs on 210 phone lines and is available in five languages. The service recently surpassed the 33 million calls mark from 4 million registered callers.
"The 8028 Farmers Hotline is an Interactive Voice Response/Short Message Service (IVR/SMS) system. It is a mobile platform ATA uses to provide smallholder farmers with information on a wide range of agricultural issues," ATA said in its press statement.
"This agreement, therefore, is to provide access to Save the Children to the 8028 platforms. Hereafter, Save the Children will use the platform to provide Development Agents (DAs) with targeted information and advice on nutrition-sensitive agriculture. This development is expected to arm DAs with updated information that they can timely deliver to farmers. Furthermore, the DAs will be able to have access to a variety of resources to equip themselves with," it said.
Speaking at the ceremony, Mr. Khalid Bomba CEO of ATA, noted that having information is one thing, and timely delivering it is another. "It is not the having of the information that matters, but the timely distribution," he added. This is because timely information distribution is key in helping address the challenges of smallholder farmers.
"The information smallholder farmers getting through the 8028 Farmer' Hotline is helping them to improve production and productivity," said Mr. Khalid. "The integration of nutrition-sensitive agriculture messages will, therefore, enhance their health and nutritional status" he underscored.
Mr. Ekin Ogutogullari, Country Director of Save the Children in Ethiopia, on his part said: "8028 is a smart and timely information dissemination tool. Our partnership with ATA to use this platform will be useful to deliver nutrition-sensitive agriculture messages at scale through mobile Nutrition (m-Nutrition) approach."
"Furthermore" he added "it helps us avoid duplication of efforts and wisely use available resources". Apart from enhancing the DAs knowledge on agriculture and nutrition, it will help farmers get nutrition sensitive advisory service, enable knowledge and skill transfer to and from the DAs. "This will contribute to the dietary consumption behavior improvement of farmers," Mr. Ogutogullari said.
The USAID funded Growth through Nutrition (GTN) program is implemented by Save the Children in Ethiopia and works to strengthen Ethiopia's institutions, systems, and human capacity to improve nutrition and significantly reduce stunting.
Though trends suggest an improvement in chronic malnutrition over the past 15 years. Yet, 28% of child deaths in Ethiopia is associated with under-nutrition.
In addition to this high contribution to the under-five mortality rate, high prevalence of various forms of malnutrition among vulnerable groups in Ethiopia has serious implications for social development and economic growth, according to UNICEF's report on malnutrition in Ethiopia.
In a study conducted in 2009, the total annual cost of under-nutrition was estimated at US$2,775,000, equivalent to 17 per cent of the country's GDP in 2009.