UN urges Ethiopia to open unrest erupted areas for investigation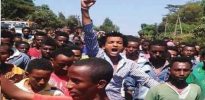 The United Nations High Commission Office for Human Rights, whose Commissioner is on official visit to Ethiopia, urged the country again to open unrest erupted areas for its investigators.

"My staff has not received permission to travel to affected regions in order to ascertain the facts of these events for ourselves. This means my office is unable to collaborate or confirm the findings of the Ethiopian Human Rights Commission," said, Zeid bin Ra'ad Zeid al-Hussein, High Commissioner for the Office of the High Commission for Human Rights (OHCHR) who made the remark on Thursday in Addis Ababa at the conclusion of his three days visit to Ethiopia.



"…Although I benefited greatly from the briefings provided to me by the Attorney General office, the extremely large number of arrests (over 26,000), it is unlikely that rule of law guarantee has been observed in every case. I believe my staff ought to be given access to the affected areas and I renew my request to the Ethiopian government," he said, indicating his plan to have follow-up visit next January.
He also stated that the Charities and Societies Proclamation, Anti-Terrorism and Mass Media laws in Ethiopia "do not appear aligned with relevant international legal norms, and should be reformed."
Following the unrest, the government has been refusing the investigation request by the UN human rights commission.
According to the government body known as Ethiopian Human Rights Commission, which recently issued a report on the conflict and response of security forces, a total of 669 people are killed from August 2016 to March 2017.
In addition to discussions with government officials, opposition members and civil society representative, the team of the UN High Commissioner has also visited Kilinto detention center in Addis Ababa where high profile opposition politicians and journalists, among others are held.
Ethiopia signed seven UN human rights treaties out of the nine human rights treaties, according to Zeid, who is also prince of Jordan.
The government believes that the different unrests took place between November 2015 – August 2016 in Amahara and Oromia Regions of Ethiopia are caused a result of public dissatisfaction.
In its recent report to the Parliament the Ethiopian Human Rights Commission has recommended that those who have used excessive force have to be brought to justice.
"I am pleased the Ethiopian Human Rights Commission conducted two separate investigations into the uprisings and responses by the security forces. I encourage further moves towards greater independence by this body," Zeid said, stating that he rates the Commission's B grade because of it is established by the government.