Accelerating its investments in Africa, the African Development Bank said has approved a total of $10.5 billion in 2016, the highest ever in Bank's history. 
"We disbursed US $6.5 billion – the highest ever by the Bank. The Bank is delivering for Africa and we are ready to do more," President of AfDB, Akinwumi Adesina said. He made the remark on Tuesday addressing the Bank's annual meetings in Ahmedabad, India.
The major achievements of the Bank in 2016 include: 
3.3 million Africans benefited from new electricity connections;
3.7 million Africans benefited from improved access to water and sanitation;
5.7 million Africans benefited from improvements to agriculture;
9.3 million Africans benefited from access to better health care services;
7 million Africans benefited from improved access to transport
"…But these efforts will only succeed if Africa improves access to electricity. As we solve Africa's access to electricity, agro-industrialization will take off in Africa, boosting rural economies, creating jobs for the youth, and lifting millions out of poverty. We are taking action. That's why the Bank is investing US $12 billion in power in the next five years, and leveraging US $50 billion from the private sector," he said.
Africa, which produces 75% of the world's cocoa, receives only 2% of the US $100-billion annual chocolate market, according to Adesina.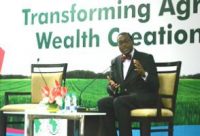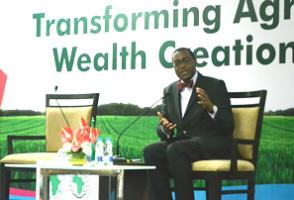 "African farmers sweat, while others eat sweets. While the price of cocoa has hit an all-time low, profits of global manufacturers of chocolates have hit an all-time high. It's time to process Africa's cocoa in Africa, for we must end Africa being at the bottom of global value chains," Adesina said.
"We will do more, as our resources expand, for we cannot wait to give hope for millions of Africa's youth. To do more for Africa – its economies, its youth and women – the Bank needs a lot more resources," he added.