To repatriate its stolen wealth and fight future illicit financial outflows, the Government of Ethiopia has applied to join the 199 member countries group.

"As a nation we are working to join the network of international transaction system. There are preconditions to join that network. If we manage to fulfill these preconditions, we will be member of the 199 countries that group. Then we will be able to repatriate rightfully the wealth that has left the country illegally without begging anyone," said Muferiat Kamil, Ethiopia's Minister of Peace without naming the group.



Categorizing countries of the world in different groups, Financial Action Task Force (FATF) has been engaged active in fighting such illegal movement of finance globally since 1989. FATF claims that it has been working to identify national-level vulnerabilities with the aim of protecting the international financial system from misuse.
But it is not clear if the minister was referring to FATF. Meanwhile in its November 26, 2018 assessment FATF, which also has Eastern and Southern Africa Anti-Money Laundering Group as a member, indicated that Ethiopia is making progress in strengthening measures to tackle money laundering and terrorist financing.
Minister Muferiat made the comment on Tuesday speaking to state broadcaster – ETV after she presented her ministry's 100 days performance to the Office of the Prime Minister. She indicated that over the past three months her ministry has been compiling and organizing suspicious international transactions, which are suspected of involving illegal outflow of money from Ethiopia.
"We have applied to become a member of the 199 countries group not only to repatriate the money left the country illegally but also to protect such outflow in the future," she said.
Over the past few decades tens of billions of dollars has left Ethiopia illegally, according to various reports.
Ethiopia's annual average outflow from 2008–2012 was $3.55 billion, according to a report by Global Financial Integrity. During that same period, Ethiopia's illicit outflows were 1,355% of the foreign direct investment flowing into the country.
A report by a high level panel on illicit financial flows from Africa estimated that illicit financial flows from Africa ranges from at least $30 billion to $60 billion a year.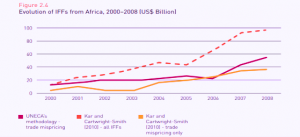 The major means of illicit financial outflows are trade misinvoicing such as, under-invoicing, corruption and kickbacks from grand mega government projects and contraband trade and money laundering, among others.
The FATF monitors the progress of its members in implementing necessary measures, reviews money laundering and terrorist financing techniques and counter-measures, and promotes the adoption and implementation of appropriate measures globally.
FATF's objective is to set standards and promote effective implementation of legal, regulatory and operational measures for combating money laundering, terrorist financing and other related threats to the integrity of the international financial system.
"Beyond repatriating the money that left the country through different means, joining the group will give us the opportunity to fight illicit financial outflows in the future," Muferiat said, indicating that Ethiopia is now considered as candidate to join the network.