The Federal Documents and Authentication and Registration Agency of Ethiopia today announced that it will no longer authenticates property deals made using cash payment.

As of today, September 17, 2020, the Agency can only authenticate selling and buying of properties if only the parties made the transaction through formal banking system, the state daily Amharic newspaper paper, Addis Zemen, reported. The two parties (the buyer and seller) have to be able to present bank transfer and deposit confirmation (Bank Transfer Slips) to the Agency.



In addition, the agency also indicated that any loan between two parties has also be supported with bank receipts as of today in order to be authenticated. The Agency's decision to ban cash payment in movable and immovable property deals, has followed Ethiopia's introduction of new currency notes to combat organized crimes and contraband trading, money laundering and printing of forged currencies.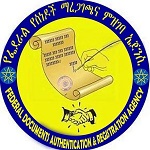 Launching the new currency notes this week, Prime Minister Abiy Ahmed told bankers to cautiously remove forged currency notes out of their banking system. Indicating that some banks are engaged in circulating forged Ethiopian currency (the Birr), he warned the bankers that from now on wards his administration will shut down any bank found involved in such illegal activities.
In Ethiopia most of the transaction is being made using cash though in recent years the government has been trying to create cashless society introducing mobile money and internet banking.
Ethiopian Customs report over the past few years shows that illegal trading across border and circulation of hard currencies by organized criminals have been increasing. The Report of Ethiopian Customs Commission shows that for the past six months on average the Commission has been capturing worth one million dollar goods including guns and contraband goods from the organized criminals, mainly along the borders of Ethiopia.