Tyre Protector Ethiopia, a private company, today introduces tubeless tyre protector gel to the market.
The gel offers permanent guaranteed puncture protection for the life of the tyre, according to Bacha Debele, general manager of the company who retired from army general position several years ago.
The gel, that extends the lifetime of tires, will help Ethiopia to reduce the increasing volume of hard currency the country is spending to import tyres because the tyres run out of service before serving for the intended lifetime by the manufacturers.
During the illustration at the central bus station (Autobis tera) in Addis Ababa, when a tyre that has been treated with Tyre Protector encounters a puncture, air pressure inside the tyre forces Tyre Protector into the wound forming an instant and permanent repair.



The company imports the product from Tyre Protector International based in England with which the Ethiopian company has been promoting the product in local market since 2014.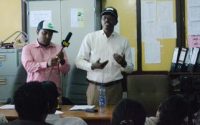 The promoters noted that it takes only a small amount of Tyre Protector sealant to repair a puncture. There will be sufficient material left inside the tyre to remain effective against many more punctures to come, according to the General Manager. Bus owners and journalists have attended the demonstration this morning.
It took many years of research, development and testing before Tyre Protector was made available to the public in June, 2003, according to the information obtained from the founding company website. "In 2005 Tyre Protector was awarded ISO 9001 accreditation. This internationally recognized, prestigious award for quality is an International Standard, in use worldwide as the benchmark for Quality," it says.