Ethiopia Commodity Exchange's coffee transaction doubles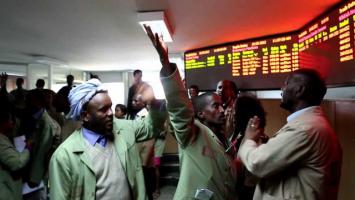 Ethiopia Commodity Exchange (ECX) traded 33,528 tons of coffee, sesame and white pea beans worth 1.7 Billion birr (around $80 million) in the month of August 2017. This value surged by 600 million birr as compared to last month.

Following the coffee reform initiative launched in July 2017, coffee continued to take the lion's share of the list in terms of volume and value of the commodities traded during the month.
Compared to last month, coffee trade volume and value increased by 52% and 66% respectively. Out of the total traded commodities, coffee covered 63% and 82% of volume and value respectively. Its trading volume has reached 21,159 tons with a value of 1.4 billion birr (around $66 million), according to the press statement ECX sent to newBusinessEthiopia.com.
During the 23 trading days in the month, export coffee trade dominated the market by taking the market share with 75% of the volume and value, followed by local and specialty coffees in row.
In the month of August, 2,803 tons of washed export coffee had been traded at a value for 209 million birr (around $10 million). Washed Sidama stood on the top of the list by taking 77% of the volume of the category followed by Yirgachefe and Limmu.
On the other hand, 13.014 tons of unwashed export coffee had also been transacted for 843 million birr (around $40 million), Jimma excelled with 34% of the volume of the category followed by Lekemt.



Sesame followed the market share by having 11,479 tones in volume and 303 million birr (around $14 million) in value. Whitish Humera Gondar sesame took higher share of the market scoring 65% and 68% In terms of volume and value, respectively.
White pea beans stayed in the bottom of the list contributing 890 tons that worth 14 million birr (around $660,000). Ethiopia Commodity Exchange is continuing its effort in building a modern, transparent and orderly market platform to all actors in the market.