Ethiopia to celebrate its victory that 'turned the world upside down'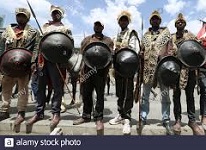 Ethiopia today launches a month long celebration of the 125th anniversary of Battle of Adwa, the first victory of Africans over the highly armed Italian forces at the Battle of Adwa in north-central Ethiopia in 1896.

"Adwa month" celebrations includes events several events such as panel discussions across the country and within the Ethiopian Embassies across the world, according to the organizers. The Italian forces armed with advanced military weapons at the time was defeated by Emperor Menelik's Of Ethiopia's patriots who were less armed but said no to colonialism.



Bizunesh Meseret, State Minister of Culture and Tourism of Ethiopia indicated that in addition to panel discussions and symposiums, the month long celebrations include photographic and paintings exhibitions that shows the significance Adwa victory as a millstone in the fight against colonialism in the history of all black people and mankind in general.

She also noted that films and theatres related to Adwa victory will also be displayed in various parts of the country for one months. It was on March 1, 1896 Italian colonizers were defeated by united Ethiopians from all corners of the country who concluded the victory at the Battle of Adwa on Soloda Mountain located in current Tigray region of Ethiopia.
As the victory was the first Black people victory over at the time untouchable White colonizers, it was a big news across the world. Several books including the well-researched, 'The Battle of Adwa –African Victory in the Age of Empire', by the American national Raymond Jonas. "The Battle of Adwa turned the world upside down," Raymond Jonas wrote in his book.



– Follow Us on Twitter https://twitter.com/newBuz_Ethiopia
– Subscribe to our Youtube https://www.youtube.com/c/Newbusinessethiopia/featured
– Find us on Facebook https://www.facebook.com/newBusinessEthiopiacom/
– Find us on LinkedIn https://www.linkedin.com/company/newbusinessethiopia
– Find us on Telegram https://t.me/EthiopianExclusiveBusinessNews