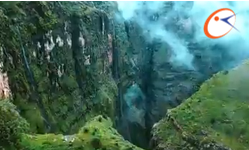 With the aim of encouraging new private investments in tourist attraction sites, the Government of Ethiopia has introduced a zero profit tax for new investments in hospitality sector near seven tourist attraction sites of the country.

Initiated by Tourism Ethiopia, the private public partnership that has been promoting tourism industry of the country, said it has selected seven potential tourist attraction sites for investors, who can enjoy zero profit tax for five years. The seven destinations in Ethiopia which will benefit from the special investment incentives are located in Oromia, Tigray, Amhara, Afar, and South Region of Ethiopia, according to Sileshi Girma, Tourism Ethiopia Director General, who spoke to the state newswire, Ethiopian News Agency.



He noted that the purpose the special investment incentives in the selected areas is to encourage investors invest and take part in the development of the tourism sector of the country, which is currently under-developed. Geralda Mountains in Tigray region, Simen Mountains National Park, in Amhara region, Nech Sar National Park, in Southern part, and Abiyata Shalla National Park, are among the selected areas for special investment incentives package.
"In addition to the usual tax exempted import of construction inputs, capital goods, importing duty-free vehicles, anyone who is interested to invest in these selected areas will not pay profit tax for five years," he said, indicating that Ethiopia has cultural, natural and anthropological tourist attractions that can create millions of jobs and huge revenue for the country. Developing the tourist attractions with world class facilities will enable the county to attract more tourists, according to Mr. Sileshi.
According to a study published in 2018 assessing the quality of products and services being delivered within the Simien Mountains National Park (SMNP), the quality of a major tourism product such as weather conditions, the value for money of visitor attractions (i.e. tourism resources both natural and cultural, accommodation, food and entertainment); accessibility, safety and security, and cleanliness of the local environment were all acknowledged by the majority of tourists who visited the SMNP.



"Courtesy of local people, friendliness of the local people, willingness of local people to help, and willingness of employees could increase the overall satisfaction of tourists who visit SMNP, while the infrastructure and the quality of tourist information deliveries were found to be insufficient to satisfy tourists who visit the destination," suggested the study, entitled – 'Tourist Services Quality in the Simien Mountains National Park, World Heritage Site, Ethiopia', by Endalkachew Teshome (PhD) Associate Professor of Ecotoursim and Wildlife Management Department of Tourism Management, University of Gondar, Ethiopia, and Endalew Demissie Senior tourism officer North Gondar Zone Culture and Tourism Office Debark town, Ethiopia.