African youth to discuss heritage, conservation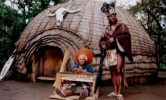 A planning meeting for the "International Centre for the Study of the Preservation and Restoration of Cultural Property" ICCROM's new Africa programme is set to be held at the Egyptian Academy of Fine Arts in Rome, Italy.

Fifteen professionals from 15 institutions are meeting from January 9-11, 2019 to discuss how best to design an impactful programme to support youth and its engagement in heritage in the African region.



"Youth are the future managers and conservators of our heritage," commented Dr Webber Ndoro, ICCROM's Director-General, on the occasion. "For me it's essential to engage youth at the planning stage of the proposed programme."
Dr Gihane Zaki, Director of the Egyptian Academy in Rome, commented for her part: "The Egyptian Academy is very pleased to host this meeting. I look forward to a regional ICCROM programme that embraces the whole African continent."
In Africa as elsewhere in the world, new challenges are emerging, driven by rapid urbanization, climate change and demographic shifts. Africa has an extremely young age distribution, with 59% of its population under 25 years of age.
They have also grown up with the tools of the digital age literally at their fingertips. Most make their living in the informal sector, and rarely see the conservation of cultural heritage as an opportunity for meaningful engagement.
How can a new strategy engage young people, and how will they benefit? Are heritage institutions such as museums ready and willing to involve them in their work? How can heritage professionals and decision-makers create the conditions for young people to take ownership of their cultural heritage, and by appreciating heritage to participate and contribute meaningfully to society?
The Africa Expert Meeting takes inspiration from the United Nation's 2030 Agenda for Sustainable Development, and from the Africa Union's Agenda 2063 "The Africa We Want" which is committed to realizing Africa's full potential in development, culture and peace.
The Expert Meeting will discuss and debate how ICCROM's new programme can visibly contribute to economic development, employment and social cohesion on the continent.
The new programme will pioneer new approaches and strategies, even as it is grounded in ICCROM's past international experience in training and capacity building for cultural heritage conservation.
In particular, the programme will strengthen collaboration between institutions and civil society, engage dialogue and debate on the identification and significance of cultural heritage in the light of the growing decolonization discourse, and review the role of museums in today's Africa rapidly urbanizing context.
The programme will also promote intergenerational exchange by considering the ingenuity and innovation that young persons can bring, while learning from the experience and wisdom of older generations.
In keeping with African Union recommendations, the proposed programme will cover the geographical area of the entire African continent, aiming at establishing a wide and vibrant network of people and institutions.