Ethiopia blocks 240 bank accounts for financing terrorists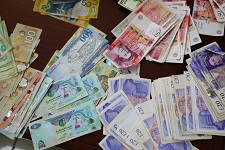 Bank accounts of 240 individuals, who are suspected of financing the terrorist groups – Tigray Peoples Liberation Front (TPLF) and Oromo Liberation Front (OLF-Shene) are blocked, according to the statement of the Federal Police of Ethiopia.

The Federal Police of Ethiopia along with other security agencies on Friday said that it has also seized $250,000 cash from individuals engaged in illegal circulation and exchange of hard currencies in the black-market.



The police also stated that 50,000 British Pound and different countries' currencies as well as 115 million Ethiopian Birr are also confiscated. During the operation that takes place mainly around Ethiopia Hotel and Mercato area, many people are arrested in relation to illegal circulation of hard currencies in Addis Ababa.
In addition to hard currencies, the police have also seized 1.5 kilograms of opal mineral from a house around betel area. In relation to narcotics, five individuals are also captured by the police for selling drugs.
TPLF is designated as a terrorist group after it has admitted committing treason killing several thousand Ethiopian tropes when it attacked the northern command base in Tigray at midnight on November 3, 2020.
OLF-Shene, which recently announced its partnership with TPLF is also designated as a terrorist group by Ethiopian Parliament. Currently both groups are fighting Ethiopian troops and killing civilians as well as destructing public and private properties.



A few days ago, it is reported that OLF Shene has killed several civilians in Oromia region, while TPLF has vandalized churches, mosques, thousands of health posts and schools during its invasion in Amhara and Afar regions following the June 2021 unilateral ceasefire of Ethiopian Government