Ethiopia export earnings increases 12 percent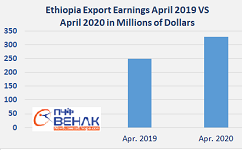 NEWS- The export earnings of Ethiopia for the first ten months the current budget year started July 8, 2029, has increased by 12.6 percent to $2.4 billion including the $329.3 million the country earned in the month of April.

Increase in flower, vegetables, fruits and meat export has helped the country to earn more hard currency than the previous year. The Ministry of Trade and Industry in its report stated that income from export of coffee, oil seeds and textiles has is also better this year as compared to the previous year.



Compared to same period last year, income from gold and flower export has increased by 144 percent and 94 percent, respectively.Income from fruits and vegetables export has increased by 46 percent, while Income from live animals export has gone up by 22 percent. Income from coffee export has gone up by 16 percent. Ethiopia's oil seeds export income for the ten month period has also increased by 10 percent followed by Khat, the stimulant plant which has generated 7 percent more income to the country as compared to the previous year ten months.
Over the past few years Ethiopia's annual income from export of goods has been declining to around $2.4 billion, while the import bill of the country has been growing every year creating over $13 billion trade deficit.