Djibouti cut port service fee for Ethiopia
By Andualem Sisay Gessesse – Djibouti, December 6, 2017 –
The new Duraleh Multi-purpose Port of Djibouti, which began operation six months ago today announced up to 45% discount for freight forwarders who process shipment of goods from and to Ethiopia.

"The government of Djibouti has decided to decrease for Ethiopian freight forwarders. It is a big decrease on general cargo, vehicle and drive bulk. It is between 20-45%," Mr. Wahib Daher Aden, CEO of Duraleh Multi-purpose Port (DMP) of Djibouti.
It is one of the five ports the government of Djibouti has constructed to meet the growing trade of Ethiopia that relies on the smallest nation in East Africa.
Since it began fully operation last July with a total investment of $580 million, it has served 220 vessels with 1.7 million tons of goods, according to Mr. Wahib who briefed a team of Ethiopian journalists in Djibouti.
He also noted that the remaining around one kilometer railway line that will stretch to the new port will be completed in the coming six months. He mentioned that for the first time two trains have left Djibouti with cargoes to Ethiopia via the new electric railway.
The newly built 756 kilometers Ethiopian-Djibouti rail transport commenced operation after the two sides formed a joint company that manages the business this week. Out of the total distance, 100
kilometers is found within Djibouti while the remaining is in Ethiopian territory.
According to a source 75% of the new company's share belongs to Ethiopian while Djibouti holds the remaining.
The two sides invested a total of $3.4 billion on the new electric railway. The finance mainly came from the Exim Bank of China and the construction was also done by two Chinese companies – China Civil
Engineering Construction Corporation (CCECC) and China Railway Construction Corporation.
Compared to the old Port of Djibouti, DMP handles bigger ships which carry up to 100 tons of goods, while reducing the waiting days of the ships to discharge goods from 19 to 7 days, according to the CEO.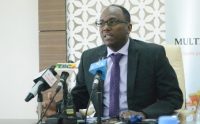 "Now the daily cost of a ship at the port, which often ranges $15,000 to $25,000 will be reduced as a result of our new efficient service that reduces the number of days the ships spent at the port," he said.
Shamebo Filamo Adebo, Ethiopia's Ambassador in Djibouti on his part told journalist that the railway will reduce the transportation of goods from Ethiopia to Djibouti Port to ten hours while speeding the
integration of the two countries.
"The hardware integration- part infrastructure development between the two countries has become exemplary. Such economic integration attracts investment, makes easy for local manufacturers to export their products quickly," Ambassador Shamebo said.
The new railway is part of the regional 2,000 kilometers railway system promoted by the African Union to speed up economic integration of the continent.