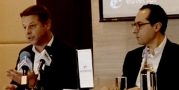 EutelSat, the French satellite broadcasting service provider, is in discussion with the Ethiopian government to provide Internet service using its new satellite that covers African market, an official of the company said.

At the end of December the company is set to launch a new satellite called, Konnect, which will be totally used to provide broadband Internet connection everywhere within Africa.



"That is something we already opened in several countries in Africa. We are expecting also to deliver to Ethiopia market," says Philippe Oliva, Chief Commercial Officer of EutelSat.
"We are starting the negotiation to be totally transparent. We finalized negotiations in other African countries that is why we opened broadband connectivity market in Democratic Republic of Congo, Nigeria, and Ivory Coast.
We are expanding and negotiating with multiple governments to deploy satellite internet. The good news is that it could be very interesting for the Ethiopia government that is why we are going to start the negotiation," he said.
"Because the way satellite has been designed, we use the gateway to reach the satellite in terms of broadband signals that will go up before going down to the country. This gateway could be located in Ethiopia," he said.
He further stated that the plan to have the gateway in Ethiopia is a proof of partnership and willingness of his company to demonstrating that the investment is designed in a way to meet the specific regulatory issues of Ethiopia with specific satellite design targeting Ethiopian market.
The partnership the country is negotiating with Ethiopian government allows the government to easily manage its own satellite Internet gateway (the ground segment), according to Mr. Oliva.
Using its new satellite, EutelSat 7C, the company is also set to start a new service in Africa and Ethiopia that will allow video content producers monetize their contents using signals from the satellite ad signals from the Internet.

"We are going to continue to invest in the future with the most impressive evolution that we would have when we think of the future of broadcast.
Including the major state TV channels, EutelSat currently has the biggest market share in Ethiopia, according to Mr. Oliva's presentation this morning.
He stated that currently EutelSat is providing more than 200 channels for Ethiopia of which 67 are Ethiopian TV channels out of these 47 are exclusive. In addition 65 religious channels in Ethiopia are being served by EutelSat with 85 international channels.
"The future looks exciting for EutelSat in the Ethiopia market, with the recent launch of EutelSat 7C in June 2019, due to serve video markets in Africa I the coming weeks," according to Mr. Oliva.
"Some of the upcoming projects for the Ethiopian market in addition to video services, Ethiopia will also be able to receive high quality broadband in 2020 via EutelSat's Konnect satellite, due for launch by the ed of 2019. This will provide broadband services across the Africa continent with the aim of bridging the digital divide," he said.