Several African leaders attend Ethiopia's PM inaugural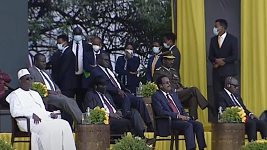 Several African countries leaders including presidents of Nigeria, Senegal, Uganda, Djibouti, Somalia, Kenya, South Sudan, Prime Minister of Congo, and Foreign Affairs Minister of Algeria, among others gathered in Addis Ababa to attended the inaugural ceremony of Prime Minister Abiy Ahmed of Ethiopia.

Prime Minister Abiy Ahmed's Prosperity Party has won last June general election to lead the country for the east African country coming five years. In his message President Yoweri Museveni talked about the danger of identity politics in Uganda and the heavy cost his county paid. He suggested to the people of Ethiopia to choose between politics of interest and politics of identity on the way forward.



"I have been watching and participating the African sean in the last 60 years. In this 60 years we have some observations. One of the biggest problems we faced in Uganda was the politics of identity. 'I am this tribe; I am that tribe. I am this religion; I am that religion.' That caused us a lot of problems. Uganda started coming up only when we address that issue of politics of identity and moves politics of interest. And I wish the people of Ethiopia well. But remember that politics of interest or politics of identity," President Museveni said.
President Salva Kiir of South Sudan on his part indicated that Ethiopia has always been good friend of his country since the time of Emperor Hailesillassie, who negotiated peace deal for the autonomy of the South Sudan during the era of President Jaafar Muhammad an-Nimeiry of Sudan.
"We want Ethiopia – our great mother…Being South Sudanese, without Ethiopia we would have not been what we are today. Because of that we don't want the situation happened to us to happen to Ethiopia," President Salva Kirr said. "We want to stand with you. Wherever you want to go we go with you," he said.
Ismail Omar Guelleh of Djibouti on his part said: "We all know how fragile peace is in our region…We have fought long and hard for all our achievements. And nowhere is that statement more true than in Ethiopia where for centuries and myriad of cultures have coexisted and built this great nation. You absolutely must protect those hard-earned gains."



"Indeed, as a nation stepped ed in its long history of cultural and religious diversity, rich of centuries of successful development and progress, we remain certain that the Ethiopian nation is bigger and stronger than whatever ails her. Ethiopia always gets back stronger despite everything. And we are counting on her to do so. We remain certain that Ethiopia will emerge victorious and will be reconciled with herself and with all her children. We pledge our full support to you and your people on this next journey," said Djibouti's President.
President of Kenya Uhuru Kenyatta on his part said to Prime Minister Abiy Ahmed: "My brother, we assure our support…Ethiopia is the mother of African independence."
"I stand here to offer you our support as you continue with your endeavors to rebuild Ethiopia. Kenya stands ready to work shoulder to shoulder with our brothers and sisters in Ethiopia to build a great region of prosperity and peace," he said.
"Ethiopia as the only uncolonized nation, stood firm with our brothers and sisters to ensure the African people are free to determine their own destiny," President Uhuru said.



President Macky Sall of Senegal and Nigeria's President Muhammadu Buhari have also addressed the inagural ceremony of Prime Minister Abiy Ahmed this afternoon. ""Thank you and congratulations to Prime Minister Abiy for the transformation you brought to Addis Ababa and Ethiopia. Senegalese people will be with you!," said President Macky Sall.