Five zones in Ethiopia to form new regional state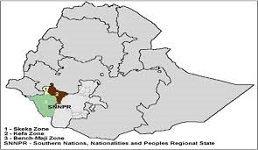 Five zones and one wereda (district with an average population of 140,000) from Southern Region of Ethiopia have agreed to merge and form a new regional state, which will be the 11 region of the country.

The zones are found in Western part of the current Southern Region of Ethiopia, according to the state news wire, Ethiopian News Agency. The report stated that Kaffa, Benchi, Sheko, Western Omo, Dawro, Sheka zones, and Konta special Wereda are the areas agreed to form a new regional state. In Ethiopia the next administration level below regional state is Zone administration, which is above Wereda administration.



The application of the zones has got acceptance from the House of Federation of Ethiopia. After looking into the application, the House of Federation has granted the National Electoral Board of Ethiopia to hold referendum in the zones for the formation of a new regional state in Ethiopia.
It is recalled that about a year ago, Sidama zone of Ethiopia has become the 10th regional state of Ethiopia after holding a referendum. Article 39 of the controversial Ethiopian constitution, which was introduced by the former rebel groups the Ethiopian Peoples Revolutionary Democratic Front (EPRDF), allows a region to become a separate nation holding referendum.
It is not yet clear if the continuous quest of different zones within Southern part to become a region, is going to lead to a fractured Ethiopia and the births of small countries from the 110 million populous nation. Southern region of Ethiopia is home for different around 44 tribes.
The EPRDF has been on power until it rebranded itself into Prosperity Party ending close to three decades of stronghold of the Tigray Peoples Liberation Front (TPLF), which is currently in charge of the Tigray Region of Ethiopia isolating itself from Prosperity Party.
The TPLF has recently held general election in the region ignoring the Ethiopian Parliament's decision to postpone it because of the global pandemic, coronavirus. Since the reformist Prime Minister Abiy Ahmed has come to power in April 2018, the TPLF has been at loggerheads with the federal government.