Five Ethiopian opposition parties set to merge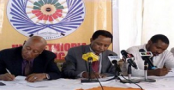 Preparing for the upcoming May 2020 enational election of Ethiopia five opposition political parties have agreed to merge forming anew party, Hibir Ethiopia Democratic Party.

Ethiopian Renaissance Democratic Organization, Ethiopian National Transitional Council, Ethiopian people's Movement, Omo People's Democratic Union, and South Ethiopia Green Stars Coalition are the five political parties agreed to form Hibir Ethiopia Democratic Party. The parties are set to officially merge and create the new party on coming Thursday, according to the press statement made by the leaders of the parties on Monday.



Latest report shows that there are ciurrently around 100 politcal parties operating in Ethiopia, of which most are ethnic based. After coming to power about a year ago, the reformist Prime Minister Abiy Ahemd has told opposition parties to come together narrowing their differtences.
As a result last week, some of the major opposition figures from half a dozen opposition parties have disolbved their previous opposition parties and announced the establishment of a new opposition front, Ethiopian Citizens for Social Justice Party.