Ethiopia forms a new regional state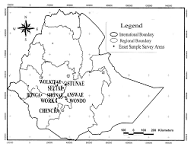 Following the referendum vote held last Friday, five zones and one Wereda (district smaller than a zone) in Southern Ethiopia have formed a new region South Weste region.

Konta special Wereda, West Omo, Bechi Sheka, Kaffa, Dawro, and Sheka zones have now merged forming South West region of Ethiopia. Of the total people in the region the majority (1,221,092) have voted for the formation of the new region, while the total number of people who voted that the five zones should remain in Southern region of Ethiopia were 24,024.



The formation South West Ethiopia region will increase the total number of regions in the country to 11. Tigray, Amhara, Oromia, Southern, Somalia, Afar, Gambella, Benishangul Gumz, Harari, Sidama, and South West are now the regions in Ethiopia.
The current federalism system of Ethiopia introduced after 1991 by the former rebels (Ethiopian Peoples' Revolutionary Democratic Front – dominated by Tigray People Revolutionary Front (TPLF), has been criticized for dividing the country based on ethnicity, which led to targeted attacks of people from different ethnic groups living in another.
Such targeted attacks spearheaded by ethno- nationalist politicians and political activists have led to the death of thousands of innocent people and the displacement of millions over the past years.



It is not clear if the formation of South West Ethiopia region, which includes peoples from different ethnic groups signals the country's intention to move away from the ethnic-based region formation to geographical location.