"Black January": Supreme sacrifices paid for Azerbaijan's independence
By Tesfa-Alem Tekle January 20, 2021 – Azerbaijanis on Wednesday commemorate the 31th anniversary of Black January, a brutal crackdown by Soviet army against the people of Azerbaijan.

The mass massacre in January – 31 years ago happened when the Soviet leadership ordered deployment of military forces into Azerbaijan. As a result, more than 25,000 Soviet troops reportedly invaded Baku, the capital of Azerbaijan on the night of January 19,1990. The next day, dozens of people were murdered as Soviet soldiers opened fire into crowds of peaceful unarmed protesters in Baku. The violent crackdown intended to cripple an independence movement by Azerbajanis. Moscow's military operation move however failed to avert Azerbaijan's will for independence.



It rather strengthened the local independence movement, and a year later Azerbaijan became a sovereign state. The day after the tragedy happened, National Leader of Azerbaijan Heydar Aliyev came to permanent representation of Azerbaijan in Moscow and held there a press conference condemning the Soviet leadership's actions.
Heydar Aliyev, who considered this tragedy a crime against Azerbaijani people, emphasized that the initiators bore responsibility for it and should be properly punished.
For the people of Azerbaijan, Black January (Qara Yanvar) is a symbolic day that paved a way for Azerbaijani's divorce from the Soviet Union. "It means a symbol of struggle for independence" says Dmitri Panin, Charged 'Affairs of the Embassy of Azerbaijan in Ethiopia.
"It is a day we made sure we won't any longer be part of the Soviet Union." "Despite the mass massacre of innocent civilians the crackdowns however served as a spirit for the people to further aggressively push quest for independence" the diplomat added.
Soviet Army soldiers shot civilians at point-blank range with special brutality; they carried out deliberate assaults with tanks and armored personnel carriers on cars.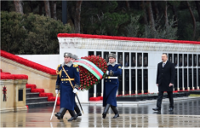 According to official estimates of Azerbaijan, 147 civilians were killed, 800 people were injured and many others went missing. That night, the whole population of the capital of Azerbaijan experienced a tragic shock.
According to media reports, Baku at dawn on January 20 presented a terrible sight: bloodstained streets and city squares, the remains of mutilated corpses, crushed cars, bullet-riddled houses and asphalt.
For survivals, the horrors of "Black January" are unforgettable. The victims of January 20 were buried at the Martyr's Alley and people of Azerbaijan mark this day every year as a National Day of Mourning.
The sons and daughters of Azerbaijan perished on January 20, 1990 while defending for their territory for freedom and independence. The day then after has become a page of heroism in Azerbaijan's struggle for independence and territorial integrity.